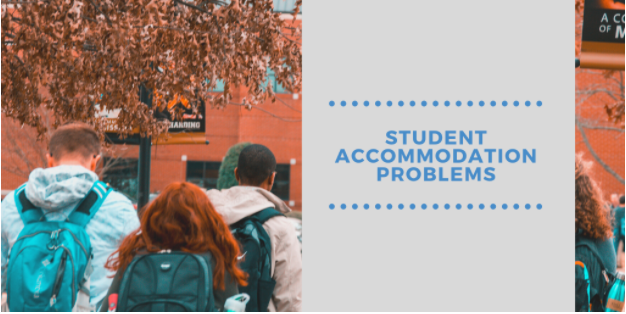 Functioning within a foreign education system enhances personal development, only if international students' specific challenges are resolved. Every year, students worldwide apply for various courses in the UK, US, Australia, and face the problem of hunting student accommodation.
Planning to go abroad for your studies? Look out for a few accommodation problems you might encounter.
Lack of adequate information on the location.
Information is the key when you're trying to find accommodation anywhere. On-campus university accommodations are minimal. Providing authenticated information for off-campus accommodations by the universities is not always possible. Before you invest in a rental accommodation abroad, you want to know about the location, amenities, distance from your university/college, etc. However, even after extensive research, you are not able to find an adequate amount of data. Without accurate location information, facilities provided, rent information, etc. you are left with a lot of unanswered questions.
Choosing from a diversified rental option.
Which accommodation is the best for me? Are there any restrictions? Which rental property will get me the best value? If I look up some more options, will I get a better deal? What type of accommodation will fit in my budget? All these queries come up to your mind while looking out for rental housing abroad. With a broad catalogue of rental properties and improper guidance, you are left to finding a needle in the haystack.
Vulnerability to rental accommodation scams
The first question that gets clicked in your mind while looking for a student rental accommodation abroad- Is this online site even legitimate? Don't let the fraudulent websites and fake social media advertisements mislead you.
Beware of the red flags.
Unrealistic prices
Unreasonably low price in an expensive location! Too good to be true, right? You're looking at a potential scam. You need to have thorough market research to understand the rental rates of your desired location.
Cash Transactions
Is your landlord or agency pressing you to make cash payments? Or offering discounts only on cash payments? Avoid cash payments as your money will become untraceable.
They might offer you legitimate-looking cash receipts, agreement bonds, etc. Beware, it can be forged too.
No photos or videos or virtual tour
Definitely a scam. Always ask for a virtual tour or videos. If the landlord or agent is reluctant to share it with you citing various reasons, don't go for the property.
No background information
Always lookout for the details of the landlord. Run a background check either through the agency or by yourself. Make sure his background information is legitimate.
Verbal agreements
Documentation is essential everywhere. Don't settle for verbal agreements. You need to ask for all the agreed-upon details, including rent information, rental period, deposit, etc.
Financial Constraints
You've a particular budget set for accommodation. However, with rising demands and scarcity of rental properties, the rental accommodations rates are mostly sky-rocketing. Without proper resources and guidance, you might overspend on the accommodation or fail to obtain accommodation in their desired location. Try to avoid this mistake. Managing the finances throughout the academic period will become a massive issue for you in the near future.
Unwelcoming cultural setup
You'll want to know about the people where you're going to stay. The cultural setup of the rental accommodation is never highlighted when the property is being rented out. However, later on, you may face discrimination due to different cultural approaches within the accommodation. You will definitely desire accommodation which will provide a standardized setup, reasonable rent and a welcoming approach. Without your minimum requirements fulfilled, staying in a foreign country and adapting to the unfamiliar environment becomes complicated and traumatic.
How to find perfect student accommodation?
We at AmberStudent are committed to providing affordable student accommodation with the best facilities and at fantastic locations. How can we help you?
Our dedicated experts understand your requirements and share a virtual tour of the best properties according to your preferences. We help you find a home away from your home.
We share every minute details of the properties and landlords so that you can make an informed decision.
Leave all the paperwork to us. Sit back and relax! We provide documented details for your rental agreement.
We can even find you a roommate who matches your personal preference through our extensive community of students—no worries of any discrimination.
The best part? We don't charge a penny to the students for our services.