Capital – Washington D. C.
Language – English, Spanish
Official Currency – U S Dollar (USD)
Climate – Mostly  temperate, but tropical in  Hawaii & Florida, arctic in  Alaska, Semi-arid in the great planes west of the Mississippi river and arid in the Great Basin of the South West.
Time Difference – Washington 9 hrs 30 min behind
Intake – Sept /Jan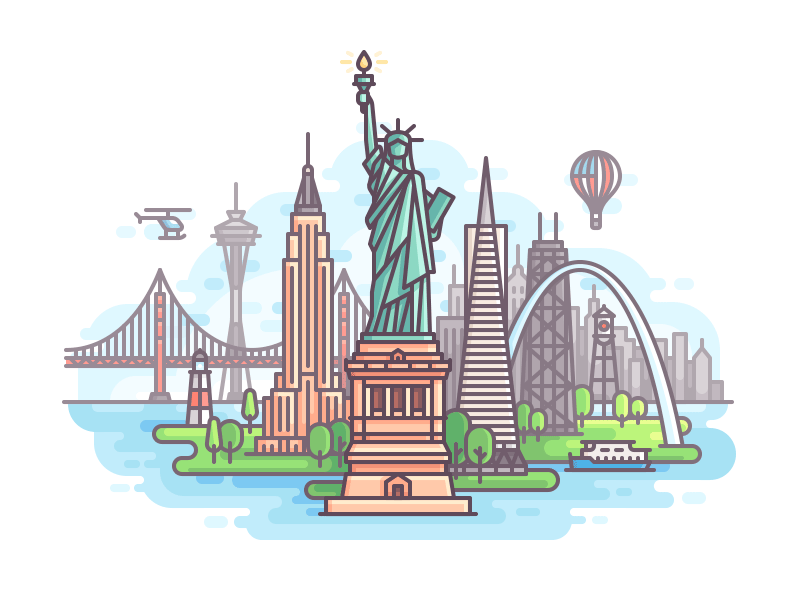 The higher education sector in the US is a buyers market. You can actually demand, and get, what is best for you.
American society is enormously diverse and complex. Important differences exist between geographical regions, between rural and urban areas, and between social classes. In addition, the presence of millions of immigrants who came to the United States from all corners of the world with their own culture and values adds even more variety and flavor to American life.
Study in USA or Study in US is one of the favorite destinations for students. Nearly 600,000 students from all over the world came to the United States last year to study at both undergraduate and graduate levels. Without a doubt, America offers very high quality post-secondary education. There are more than 4,000 public and private colleges, universities, and community colleges in the United States, including over 600 public four- year colleges and universities and over 1,650 private four-year colleges and universities. These traditional institutions enroll nearly 15 million students. In addition, more than 6,250 other non-collegiate postsecondary institutions offer specialized vocational and technical training.
Any student can find an appropriate program within the rich and diverse higher education system. This is true whether you are seeking career- oriented vocational and technical training from a community college, a liberal arts education from a small private college, an undergraduate science degree from a prestigious research institution, or one of a variety of programs offered by a multipurpose university. High quality educational programs are offered in all types of institutions at prices that vary as much as the programs and institutions themselves.
The United States also offers limitless opportunities for sports, recreation, and entertainment. Cities large and small offer numerous indoor and outdoor opportunities. Almost every city or town in the United States with college and university students will likely offer those students ways to kick back, run around, and have a good time. Study abroad USA is always preferable by the Asian and other students.
World class learning institutions with cutting edge technology, endless study choices, worldwide recognition, a diverse mix of people and culture, flexibility in terms of course schedules and hours, and a globally focused course curriculum, all make the US one of the most attractive student destinations in the world. As an US Education consultant, ONCE Education is providing a better shape to the dreams of students.